Reginald Bazley
Thornton Cleveleys War Memorial 1914-1918 | Index



Reginald Bazley was born in Thornton on 2 August 1898 and baptised at Christ Church on 28 August the same year. His father was Thomas Henry Bazley, who was born in Runcorn, Cheshire on 24 January 1869. Reg's mother was Eva Turner who was also born in Runcorn, on 29 April 1868. Thomas and Eva married at Holy Trinity, Runcorn on Christmas Day 1896. They moved to Thornton shortly after.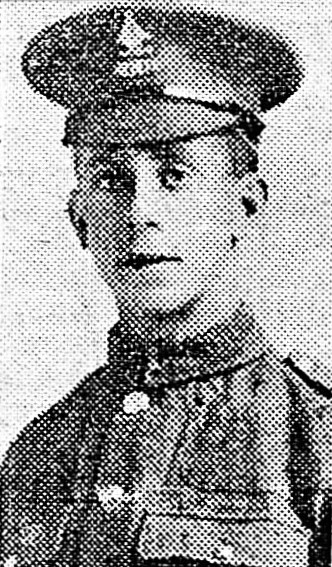 When the census was taken on 31 March 1901, the Bazley family were living at Marsh Villas, Thornton. Thomas was an analytical chemist. A daughter, May, was born on 21 July later that year. Reg won a County Council Scholorship from Thornton Council School, Church Road, and was admitted to Blackpool Secondary School on 13 September 1910. On 2 April 1911, when the next census was taken, the Bazley family were living at 1 Balmoral Place, Thornton. Reg passed his 1st Oxford Senior Examination in July 1913 and the examinations of the Joint Matriculation Board the following July.

Reg left school on 31 July 1915 to become employed as an articled analytical chemist in the laboratory of the United Alkali Works at Burn Naze, working in the same department as his father. Whilst working there, Reg attended the Harris Institute, Preston, where in July 1917 he obtained first class certificates in organic and inorganic chemistry and a pass in physics in the City and Guilds examinations. Reg took an active interest in the Mission Church at Little Thornton where he undertook the duties of Honorary Secretary and Deputy Organist. He also earned the certificate of the St. John's Ambulance Brigade.

Reg joined the Army Reserve on 6 March 1916. On 27 June 1917 he was mobilised with the Royal Naval Division of the Royal Navy Voluntary Reserve (RNVR) which was formed to augment the army divisions. On 30 June Reg was posted to the 4th Reserve Battalion. After receiving training at Blandford Camp, Dorset, Reg was sent to France in October 1917. He joined the Hawke Battalion (named after Edward Hawke, 1st Baron Hawke) on 13 November 1917 and was reported to be slightly wounded on 17 December. He rejoined his unit three days later but sadly was killed in action on 25 December 1917. He was aged 19 and it was only the second time he had been in the trenches.

Reg's parents received a letter from Lieut. J. R. Veitch which said,"I regret very much indeed having to confirm the news of the death of your son, Reg Bazley, on Christmas Day. He was one of a working party that I was in charge of, and as we were returning from being out in No Man's Land an enemy machine gun, which was hidden about 100 yards from us, opened fire and your son was killed instantly. We were fortunate in not all being killed; there was another man slightly wounded. The body was brought in by our stretcher bearers, who bravely went out in spite of the fire. The chaplain buried your son in a small cemetery near the line."

Another letter from Lieut. Veitch said, "Able Seaman Bazley was buried near La Vacquary in a small cemetery near the line." Mr. Bazley received two letters of sympathy from the Rev. R. Scott McClelland, the chaplain, who said,"Your son is buried in the ridge (Welsh Ridge) which looks to Cambrai - at the entrance to the trenches. I attended his funeral, and a cross has been erected over his grave."

Lieut. George Sugden, who was in command of the platoon to which Reg belonged, also wrote to Thomas and Eva saying, "I am writing to tell you how sorry I was to lose your son who was in my platoon. Although I was not with him long, I knew him well enough to feel his loss deeply. Not only was he an excellent soldier (for he had both the capability and the cheerful willingness for that), but he was a good man. Please accept the sincere sympathy of myself and his other comrades in the platoon for your great loss."

The body of Able Seaman Reginald Bazley, R/4354 R.N. Div., R.N.V.R. was exhumed from a point 1¼ miles northeast of Villers-Plouich and reburied on 19 December 1920 at Plot 5, Row F, Grave 18 in Fifteen Ravine British Cemetery, Villers-Plouich, Nord, France. After their son's death, Thomas and Eva Bazley continued to live in Balmoral Place for the rest of their lives. They both died in 1941 aged 72, Thomas on 25 January and Eva on 5 March.
---
© www.riverwyre.com 2023